Hours
Monday-Friday: 8:30 am-5:00 pm
Contact 
Robin Brey (Office Manager/Recreation Program Supervisor)
Theresa Kaufhold (Recreation Administrator)
Features
Administration & Finance Departments, Recreation Program Supervisor
Registration Office
Bright Beginnings Preschool Classrooms
Recreation Classes
Park Board Meetings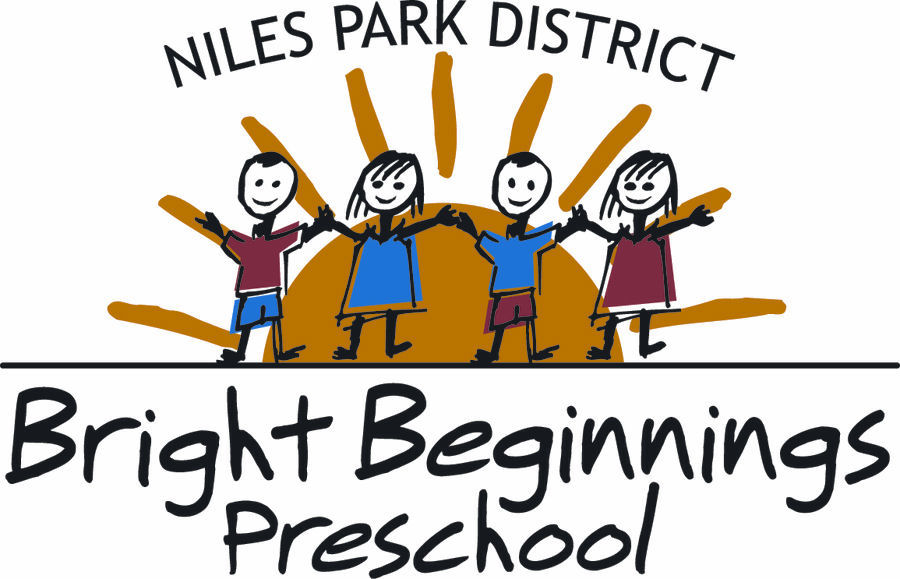 Your child deserves a bright beginning!  Join our preschool program.   
NEW- Early drop off & late pick up available this year!  Call 847-967-6633 for further information, or click on the links below.
Philosophy
Bright Beginnings Preschool is guided by the philosophy of learning through play.  Guided or self-initiated, we believe play is an essential component in developing the whole child.  We provide an environment that is safe and nurturing while promoting the physical, social, emotional and cognitive growth of the young child.  Children are given the opportunity to explore, discover, problem solve and build self-esteem through play based exploration.
Curriculum
Bright Beginnings Preschool curriculum follows weekly themes.  The themes incorporate activities that are developmentally appropriate for all areas of a child's development.  Children are motivated with age-appropriate toys, positive reinforcement, and activities that stimulate the growth of a young child.  Daily activities encourage language development, artistic expression and problem-solving skills.
Preschool Staff
Bright Beginnings Preschool staff is an integral part of the classroom.  Each class has a lead teacher and assistant.  Staff maintain 15 hours of in-service in ECE yearly, and are certified in CPR, AED and First Aid.  All staff meets the requirements issued by DCFS to teach at Bright Beginnings Preschool.
Niles Park District Bright Beginnings Preschool is certified by the Illinois Department of Children and Family Services.
CONTACT US!  Call (847) 967-6633, or email Robin Brey at robin@niles-parks.org for preschool information. 


4 WAYS TO REGISTER
1- REGISTER ONLINE
Register online HERE.
Follow instructions to Create an Account, or log in to your existing account.
Some exclusions apply.


2- EMAIL
Email your Program Registration Form to Robin Brey at robin@niles-parks.org. 
IceLand Skating & Hockey Classes- Email the IceLand registration form to iceland@niles-parks.org. 
3- MAIL-IN
Fill out the Program Registration Form.  Payments may be made by check payable to 'Niles Park District' or on VISA, American Express, MasterCard, or Discover.  Please do not mail cash payments.  If you wish to have a receipt mailed to your home, please enclose a self-addressed stamped envelope.
Mail to:
Niles Park District-Registration
6676 W. Howard St.
Niles, IL 60714

4- IN PERSON
Stop by one of our offices to register for your classes:

Howard Leisure Center
6676 W. Howard St
Phone:  847-967-6633
Monday-Friday:  8:30 am-5:00 pm

IceLand Skate
8435 Ballard Road
Phone:  847-297-8010
Accepts hockey and ice skating registration

Tam Tennis
7686 N. Caldwell Ave.
Phone:  847-967-1400
Accepts tennis registration


---
Resident Definition
Resident rates apply to those persons residing within the borders of the Niles Park District (check your real estate tax bill for verification).  Niles is its own entity and does not have co-term agreements with neighboring suburbs.
Errors and Adjustments
We try very hard to be accurate when the Fun Guide is printed. There is so much information to communicate, there may be some unavoidable errors or changes to the programs, fees, schedules and other information herein. The Park District reserves the right to make any adjustments found to be necessary and apologizes for any inconvenience which may result.
Register Early
There is a point when decisions must be made to stop taking registration for a class because it is filled, or to cancel a class due to low enrollment. Please do not wait until the day a class begins to register, or you might miss out.
Refund Policy
Niles Park District will grant a full refund of program fees, less a $5 service charge, if the refund request is received prior to the start of the program. Once the program begins a prorated refund will be given for classes attended, minus a $5 service charge.  If an insufficient number of registrants have enrolled in the program, the Park District will issue a full refund. There will be no refunds for season passes or coupon books.  Refunds take approximately two weeks to process.

IceLand Refund Policy
Learn to Skate & Instructional Hockey- A class refund can be issued if you cancel the class before it begins.  There will be a $5 service charge for canceling a class.  Once the session begins there are no refunds.  Tot Beginner Class Refund Policy- A class refund can be issued if you cancel the class before it begins.  There will be a $5 service charge for canceling a class.  Once the session begins if your child is not ready for the program, please let the office know by the 3rd week and a 50% household credit will be issued.  No credits will be issued after the 3rd week.  This policy applies to Tot Beginner classes only.

Golf Class Refund
Niles Park District will grant a refund of golf program fees, less a $10 service charge, if the refund request is received prior to the start of the first class.  Private Lessons: 24-hour cancellation policy is in effect for all private lessons.  If you do not cancel 24 hours before the start of the lesson, you will be charged in full.
Summer Camp Refund Policy
Applies to Recreation Camp, Sports Camp & Early Childhood Camp.  To withdraw from a session of camp and receive a refund, a request must be made by 5:00 pm the Thursday prior ro the start of the session.  A $25 per camper, per session service charge is applied to all refund requests.  Refunds will not be given for missed camp day.

Cooperative Facilities
In addition to the facilities owned and operated by the Niles Park District, cooperative agreements with neighboring park districts make certain facilities available to Niles residents at their resident rate.  The Morton Grove Park District's Prairie View Health Center, 6834 Dempster, 965-1200, and the Des Plaines Park District Lake Opeka, 827-7930, are part of our cooperative efforts.
Events at Howard Leisure Center