Oasis Waterpark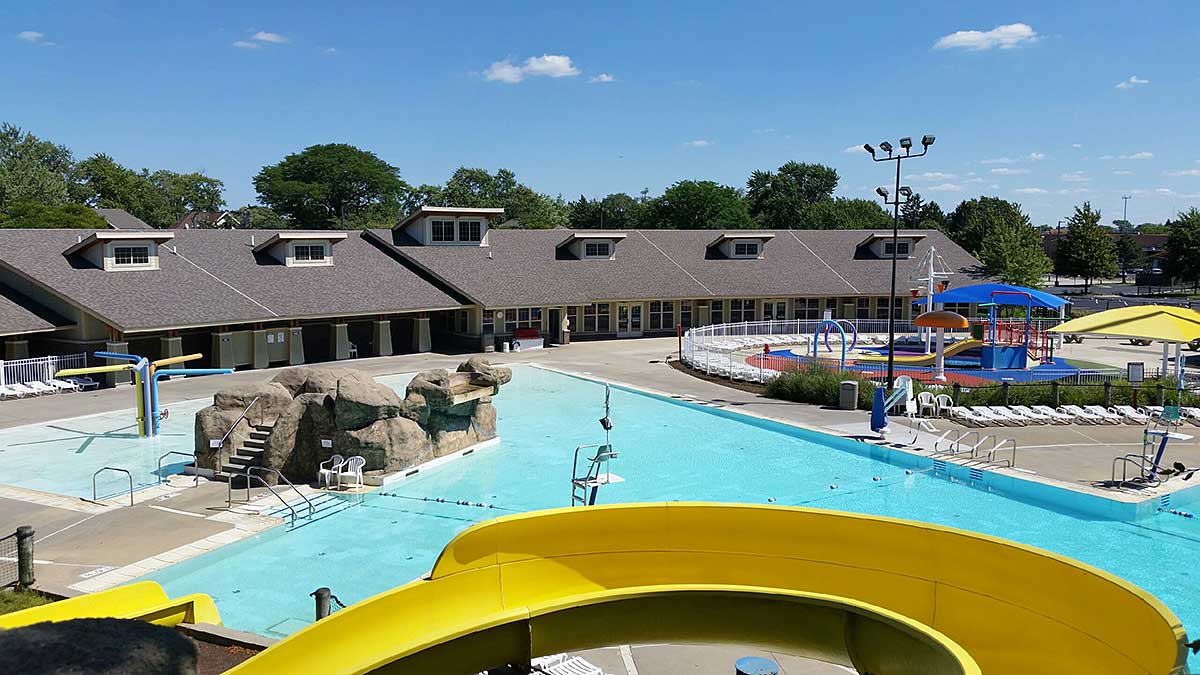 Oasis Waterpark & Fun Center
Oasis Waterpark & Fun Center
7877 Milwaukee Avenue
Niles, IL 60714
Oasis Waterpark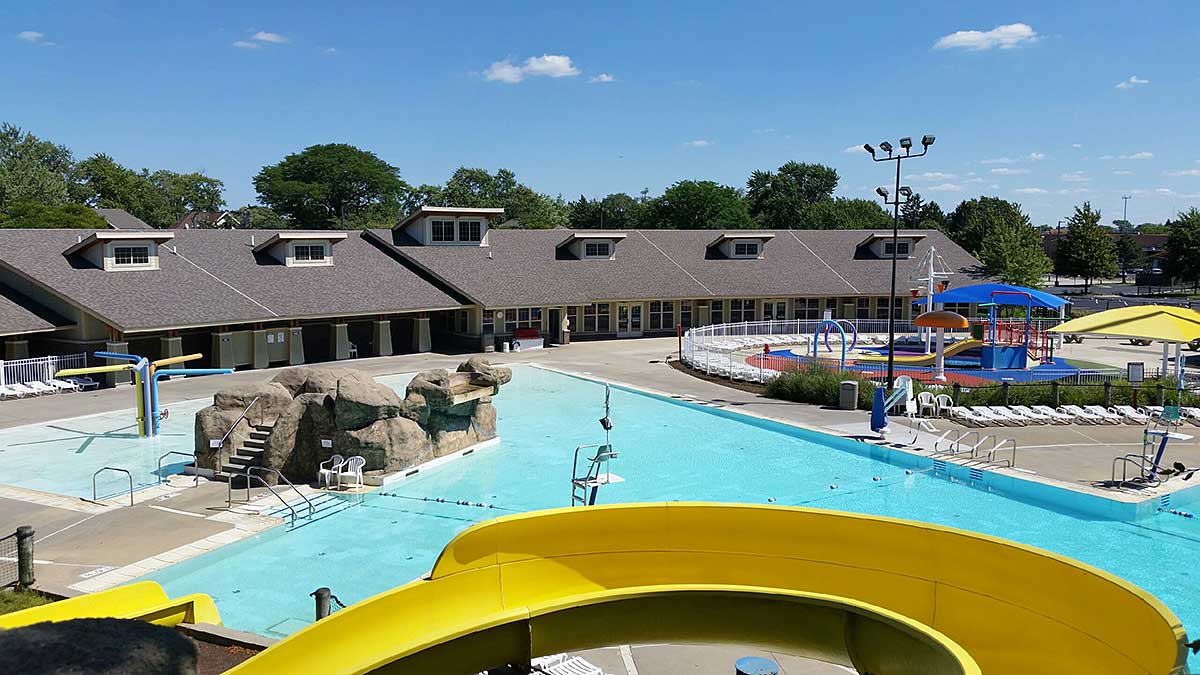 Oasis Waterpark & Fun Center
Oasis Waterpark & Fun Center
7877 Milwaukee Avenue
Niles, IL 60714
Features
Zero depth pool
Children's splash pad
3 slides
Diving boards
Concessions
Multi-purpose room
Room rental
OPEN SWIM HOURS
Pre-Season:  May 27-June 4
| | | |
| --- | --- | --- |
|  Open Swim |  Mon-Fri |  Closed |
|   |  Sat & Sun |  11:00 am-6:00 pm |
|   |  Memorial Day |  11:00 am-6:00 pm |
Full Season:  June 5-August 13
| | | |
| --- | --- | --- |
|  Pool Pass Holder Swim |  Daily |  10:00-11:00 am |
|  Open Swim |  Daily |  11:00 am-8:00 pm |
|  July 3- Pass Holder Swim |  Mon |  10:00-11:00 am |
|  July 3- Open Swim |  Mon |  11:00 am-6:00 pm |
|  July 4- Open Swim |  Tues |  11:00 am-6:00 pm |
Post Season:  August 14-20
| | |
| --- | --- |
|  Mon-Fri |  4:00-8:00 pm |
|  Sat & Sun |  11:00 am-6:00 pm |
Post Season:  August 21-August 27
| | | |
| --- | --- | --- |
|  Open Swim |  Mon-Fri |  4:00-8:00 pm |
|   |  Sat & Sun |  11:00 am-6:00 pm |

Post Season:  August 28-September 4
| | | |
| --- | --- | --- |
|  Open Swim |  Mon-Fri |  Closed |
|   |  Sat & Sun |  11:00 am-6:00 pm |
|   |  Labor Day |  11:00 am-6:00 pm |

Hours subject to change due to staff size & weather.
Please call 847-967-6648 for updates.

Pool Closing Policy:
At the discretion of the Aquatics Supervisor and pool managers, the pool may be cloised for the following reasons:
Inclement Weather- When the temperature or storms threaten safety.  No refunds or rain checks will be issued in the event of closing due to inclement weather.
Safety Hazards- When a situation arises that would jeopardize the public health of the people in attendance.
Special Event-  A Park District scheduled event.
Re-Opening Policy:
If Oasis Waterpark is closed due to inclement weather early in the day, it will be re-evaulated in the afternoon.  At that time a decision will be made whether to re-open the pool or stay closed for the remainder of the day.  Our pool office will be able to keep you updated on the inclement weather decisions.
Pool Pass Holders can enter the pool 1 hour before the general public!

2023 POOL PASS FEES
Renewing your pass?
Call the Howard Leisure Center at 847-967-6633.  Or email Pool Pass Form to Robin, robin@niles-parks.org. 
Purchasing a new pass?
Purchase in person at the Howard Leisure Center.  Hours are Mon-Fri 8:30 am-5:00 pm.
Proof of residency is required for any person 17 & older.
Family application is restricted to members of the immediate family permanently residing at the listed address.
 
 RES
 NON-RES
 INDIVIDUAL
 $105
 $142
 FAMILY OF 2
 $150
 $215
 FAMILY OF 3
 $203
 $289
 FAMILY OF 4
 $252
 $346
 FAMILY OF 5
 $289
 $378
 EACH ADDT'L*
 $47
 $58
 SENIOR (62+)**
 Rate is per person
 $79
 $110
 2 SENIORS
 $117
 $159
Famly members are defined as parents and their non-adult children (21 & under) residing in the same household.
* 3 years & older (2 & under are free)
Refunds will not be granted for pool passes.
Proof of Niles residency must be presented for any person 17 & older to receive resident rates!
DAILY ADMISSION RATES
| | | |
| --- | --- | --- |
|   |  Res |  Non-Res |
|  Youth (3-12) |  $8 |  $12 |
|  Adult |  $10 |  $15 |
|  Senior (62+) |  $8 |  $14 |
Daily admissions will not be credited towards purchase of a pool pass.
Proof of Niles residency must be presented per adult person to receive resident rates!
OASIS POOL RULES & GUIDELINES
These guidelines are a combination of Niles Park District rules and those required by the Department of Health.  They are enforced for the health and safety of our pool patrons.
Lockers:  Coin operated lockers are available at Oasis Waterpark for a cost of $.25.  The use of lockers is encouraged.  Niles Park District does not assume responsibility for lost or damaged articles.
Health & Safety
Lifeguards are here to insure the safety of pool patrons, enforce rules, and respond in case of emergencies.  All comments and suggestions should be directed to the pool office.  In addition parents are responsible to know the whereabouts of their children and to keep children 4 and under within arms reach.
Games that promote prolonged breath holding/false distress are not allowed to be played within the facility.
Smoking is prohibited in the locker rooms, on deck/grass area, and in the concession area.
Every person must shower before entering the pool deck during open swim hours.
Individuals with disabilities needing wheelchairs on deck or floatation device the water will be accommodated.
Age Restrictions
Children of the opposite sex and over the age of 5 are not permitted in the locker rooms.  Please use the family locker rooms.
Children under 12 years of age must be accompanied by an adult (18 years & over).
Childen two and under are free and must wear tight-fitting plastic pants and/or swim diapers.
Attire & Equipment
To swim, every person must wear a swimsuit with lining.  Street clothes, cutoffs, mesh shrts, underwear, thongs, inappropriate swim suits and shoes may not be worn in the water.  Sun hats, sunglasses, clean t-shirts, towels, and reading material are allowed in the pool area.  Proper swim attire for all patrons, both child and adult is required on the pool deck.  A determination of what is proper swim wear is at the manager's discretion.
Children who are not potty-trained must wear tightly fitted rubber pants or swim diapers in the pool.  Regular diapers are not allowed in the pool.
Strollers are prohibited on deck.  Baby carriers and car seats are allowed.
All life jackets must be US Coast Guard approved.
Rafts, inflatable swimming devices, snorkles, kickboards, and noodles of any kind are not allowed during open swim. 
Diving rings, soft balls, and toys are allowed at the discretion of the management staff.  Even approved items may be removed from the water if attendance does not permit safe conditions.
To use the diving well features, swimmers must be able to safetly swim independently from the board to the side of the pool.  Swimmers maybe subject to a swim test.
You must be at least 48" tall in order to ride two of our slides.  You must be under 48" to use the spray pad.  No adults are allowed on Spray Pad features.
Food
Absolutely no glass containers or coolers of any kind allowed.  Outside food and/or beverages are prohibited.  Concession stand is available.  We ask that all guests wishing to bring food, please leave it outside the facility and utilize our picnic area outside the facility.  Re-entry will be granted with either a receipt or a hand-stamp obtained by the attendant on the way out.
Membership
Season passes are issued to a specific person and may not be transferred.
Additional pool rules and regulations may be enforced or waived by management when appropriate.
At this time, room rentals are not available.  Thank you.
Searching for a great place to have your next family event or meeting? Niles Park District offers the following facilities. Please note that alcohol is prohibited in all park district facilities.
Oasis Fun Center
7877 Milwaukee Avenue
Available all year round
Fee includes room set up and availability for 6 hours
Fee: $200 and $5 per person
$200 deposit required at time of booking
Call 847-967-6633 for reservations
Summer Swim Option: Additional $5.00 per person
Pioneer Park Field House
7135 N. Harlem Avenue
Available April to October
Adjacent to Mini Golf and Batting Cages
Capacity of 35 people
Tables and chairs included
Restrooms
Fee: Res $75, Non-Res $125 per hour
Call 847-583-2746 (April 10-October 24), or 847-583-2741 for reservations.