Birthday Party Packages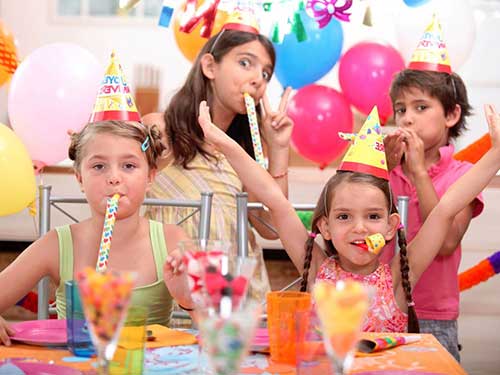 We are not taking Birthday Party reservations currently.
Birthday Party A-G Include:
Party leader to plan and organize party
Happy Birthday tableware and paper goods
Helium balloons for all guests
Days, Times & Fee:
Friday: 4:00-8:00 pm
Saturday & Sunday: 10:00 am-5:00 pm
Additional times may be available based on request. Parties are 2 hours.

Fee: Res $250, Non-Res $275
Additional fee is $10 per child over 15 children
Days, times, and fees listed above excludes: Jungle Fun Party, Ice Skating, Pionner Park Mini Golf, and Pool Parties.

A- Tye Dye Birthday (Ages 4-10 at Howard Leisure Center)
Your guests will enjoy making their own tye-dye shirts with crazy designs and swirly lines! Children should bring their own dyables.

B- Crafty Creations (Ages 4-10 at Howard Leisure Center)
Have a crafty birthday party. You bring the birthday child and friends and we will supply the great memory! Choose from one of the the following crafts for your special party fun.
Paint and create jewelry boxes
Make colorful sand creations
Paint ceramic piggy banks
C- Rumble Jumble & Climb! (Ages 2-4 at Howard Leisure Center)
Come roll, tumble, and climb in our Rumble Jumble room! Children can't resist climbing the wall and rolling on our soft play equipment. Our party leader will organize fun group activities.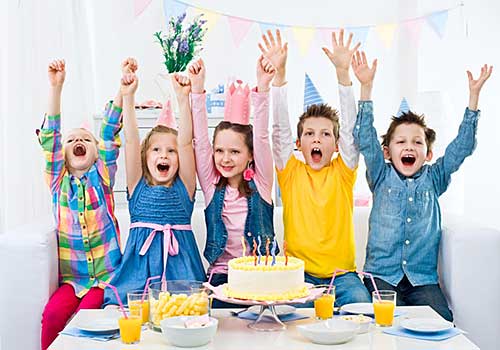 D- Princess Party (Ages 5-12 at Howard Leisure Center)
Girls, it's time to put on your princess dress and be glamorous. We will have a blast as you get your nails done by our party leader and make a special craft, play games and dance to fun party music. This party is sure to tickle any princesses' fancy.
E- Day at the Races (Ages 4-12 at Howard Leisure Center)
Horses and race cars have nothing on this party. Each child will participate in relay races, scooter races, obstacle courses, and more!
F- Old Fashioned Fun (Ages 4-12 at Howard Leisure Center)
An oldie but goodie. Activities to bring back the memories of your childhood! The fun includes Pin the Tail on the Donkey, Musical Chairs, Hot Potato, Clothes Pin Drop, and more.
G- Super Hero Party (Ages 5-12 at Howard Leisure Center)
Kids will enjoy "saving the world"! The fun will include making their own super hero or villain mask, as well as showing their super strength with games, obstacle course and more.


JUNGLE FUN PARTIES (Ages 2-12 at LoVerde Sports & Rec Center)
Our jungle play land offers children a multi-level climbing structure with bridges, enclosed slides, padded mats and ramps, and swings.  Parties are 2 hours.  A $50 fee will be added for not leaving the party room 15 minutes after the end of your party.  Socks are required for all participants.
Time:  Call 847-967-6633 for availability
Fee:
25 kids- Res $310, Non-Res $335
20 kids- Res $280, Non-Res $305
15 kids- Res $250, Non-Res $275
Each additional child is $10
ICE SKATING PARTY (September-June @ IceLand)
Due to COVID restrictions, IceLand currently is not offering party packages.
Special party packages are offered for birthdays and special events.  Room rental is for 3 hours.  Parties up to 25 people, skate admission and skate rental for 20.  For parties more than 25, call IceLand for details and prices.  To add an instructor to your party, please contact the skating director for rates and availability.  Call 847-297-8010.

Day/Time:
Friday, 7:00-10:00 pm
Saturday, Noon-3:00 pm
Sunday, 1:30-4:30 pm

Fee:  Res $220, Non-Res $265
Food Packages Available (in addition):
#1:  Hot dog, chips, drink & pudding or fruit cup
#2:  Pizza, drink & chips
$6.00 per person
PIONEER PARK MINI GOLF PARTY (April-October, for groups of 20 or more)
Looking for an outing the whole family can enjoy?  Pioneer Park is a great place to hold your next birthday party, school group, camp, church, or company outing!  Customize a fun filled day for your group with an event that's sure to be a hit!
Mini-Golf:  $5.00 per person
Call 847-583-2746 for more information during hours of operation.
Pool Party reservations will not be taken this season.
OASIS FUN CENTER POOL PARTY (June-August)
Party fee includes:
Admission to Oasis Fun Center, including spray pad, drop slide, water slide and diving boards.
Use of Oasis Fun Center room for 2 hours.
Lunch (Pizza or hot dog, chips and soda)
Park District staff member to help your party run smoothly.
Time:  Parties available during open swim hours
Fee With Food:
Res $290 for 15 guests ($10 each additional)
Non-Res $340 for 15 guests ($10 each additional)
Fee Without Food:
Res $250 for 15 guests ($8 each additional)
Non-Res $300 for 15 guests ($8 each additional)